Cooling Tower Electric Motor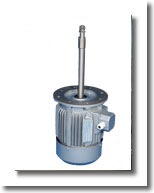 Details
Concept: These motors specially design for cooling tower Fans for continues running in humidity area.

Range: Our cooling tower motor range 0.25 to 20 hp. Frame 71 to 225M.

Motors are flange mounting with IP-55 Degree of protection. Supply 415(+- 5%) voltage and frequency 50Hz. (+-3%) combined +-5%.Motor available in 4, 6, 8, 10 and 12 pole. on customer request we are also able supply motor in 220, 380, 460, 525 volts on HZ. 50 or 60.

Performance: Motor performance conforms to IS: 325.

Mounting: Mounting V1 shaft downward position Flange B-5 as per IS 2223.

Duty & Insulation: Insulation class "F" with constant duty (s1) Cooling tower motor design for Working S1Duty. For continues working. Motor relative humidity up to 90%

Shaft and Bearing: Our cooling tower Motor relative humidity up to 90%.

Cooling tower Motor Shaft is Mead by stainless steel material AISI-410. Nut and washer are made for stainless steel AISI-202. It can make protection against corrosion. Motor shaft extended so cooling fan fitted properly.